Vision blinds, also known as day and night blinds or zebra blinds, are a modern and stylish window covering option that combines the functionality of a roller blind with the light control of a venetian blind. These blinds consist of two layers of fabric with horizontal alternating opaque and sheer stripes. Here are some of the benefits of vision blinds:
Light Control: Vision blinds offer excellent light control options. By adjusting the position of the two fabric layers, you can easily control the amount of light entering the room. Aligning the sheer and opaque stripes allows diffused light to filter through, creating a soft and gentle ambiance. Fully closing the blinds provides privacy and blocks out light when desired.
Privacy: Vision blinds provide effective privacy. When the opaque stripes are aligned, they create a solid barrier that prevents outsiders from seeing inside your space. This is especially important for areas where privacy is essential, such as bedrooms or ground-level rooms.
Versatile Light Filtering: The unique design of vision blinds allows for versatile light filtering options. You can partially raise or lower the blinds to adjust the level of privacy and light diffusion, creating the desired atmosphere in your room.
Style and Aesthetics: Vision blinds offer a sleek and contemporary look that complements various interior design styles. The alternating sheer and opaque stripes add visual interest and a modern touch to your windows. With a range of colors and patterns available, you can choose vision blinds that perfectly match your decor.
Easy Operation: Vision blinds are easy to operate, usually with a chain or cord mechanism. The blinds can be effortlessly adjusted to your desired position, allowing for quick and convenient light control.
UV Protection: Vision blinds provide UV protection for your furnishings and flooring. The opaque stripes block out harmful UV rays, helping to reduce fading and damage caused by prolonged sun exposure.
Energy Efficiency: Vision blinds contribute to energy efficiency by providing insulation for your windows. The dual-layered fabric acts as an additional barrier, helping to reduce heat loss during colder months and heat gain during warmer months. This can result in energy savings and improved comfort in your space.
Easy Maintenance: Vision blinds are relatively easy to maintain. Regular dusting or vacuuming with a soft brush attachment can keep them clean and free from dust or debris. Some vision blinds are also made from fabric that is treated to repel dirt and stains, making cleaning even easier.
In summary, vision blinds offer versatile light control, privacy, style, easy operation, UV protection, energy efficiency, and easy maintenance. Their unique design and functionality make them a popular choice for those seeking a contemporary window covering solution that combines the best features of roller blinds and venetian blinds.

Modern Design
A revolutionary new blinds concept that will compliment any room. With the striped design, these blinds offer you both light and privacy. Take a look at the video for the way in which these vision blinds will be able to assist you meet your requirements.
Download A Brochure
Control the light whilst maintaining a view – the contemporary new Vision blind creates a stunning striped statement. Download our brochure to find out more.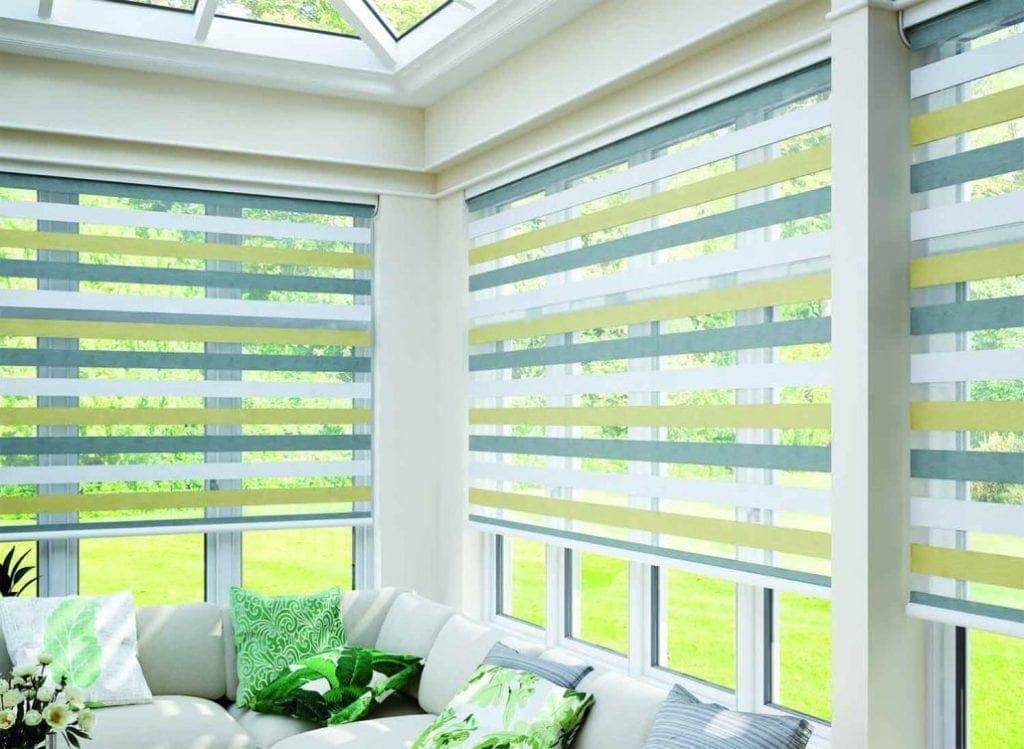 Motorised Vision Blinds for a Bi Fold Door.
Bi fold doors are very popular now and we have an ideal dressing for them. We can use a single cassette up to 5m and then match the number of blinds to the doors you have. A great and very useful blind.
Order Free Fabric Swatches
Click on the Fabric Suppliers Button and you can see and order free fabric swatches to be delivered to your home.